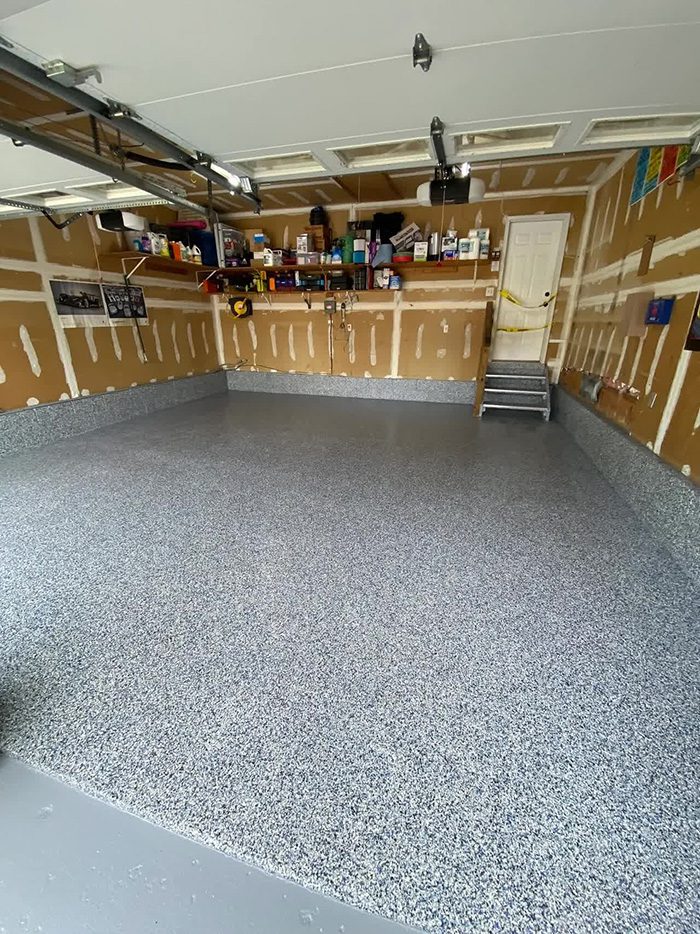 Waterproof and Protect Your Garage Floor

You see your unfinished garage every day as you come and go—the dirty concrete, the oil stains, the weathered cracks that appear over time. Your garage is one of the highest-traffic areas in your house. Naturally, it will be prone to some wear and tear. You deserve to enjoy and appreciate this space, primarily if you use your garage as a workshop or a place to store several vehicles.
Epoxy flooring is the perfect way to upgrade your garage aesthetically and practically. Forget about cold, grimy cement. With epoxy coating, you can enjoy waterproof, slip-resistant, temperature-controlled flooring for decades to come. ATK Epoxy Floors is one of Staten Island's most professional flooring services. Our process is straightforward, and our mission is simple: To help you upgrade and enjoy your garage.
Garage Floor Epoxy: The Process

At ATK Epoxy Floors, we work with clients to provide long-lasting, beautiful flooring tailored to their specific garages. Before getting started, we'll analyze your garage floor plan and discuss your wants and needs. Whether this is your space for precious vehicles, extra home items, or daily projects, we want to provide the best flooring solution.
Once we've assessed the area and you've chosen the color and design you'd like, we begin prepping the floor. Epoxy bonds best with clean, smooth surfaces. Your garage should be free of dust, particles, debris, cracks, and rough spots.
After we've prepared the floor, we apply a special primer to help the epoxy adhere evenly throughout the room. We then apply the first coat of epoxy, let it dry, and apply as many consecutive coats as your garage requires. Once the epoxy is dry, you're free to enjoy the results!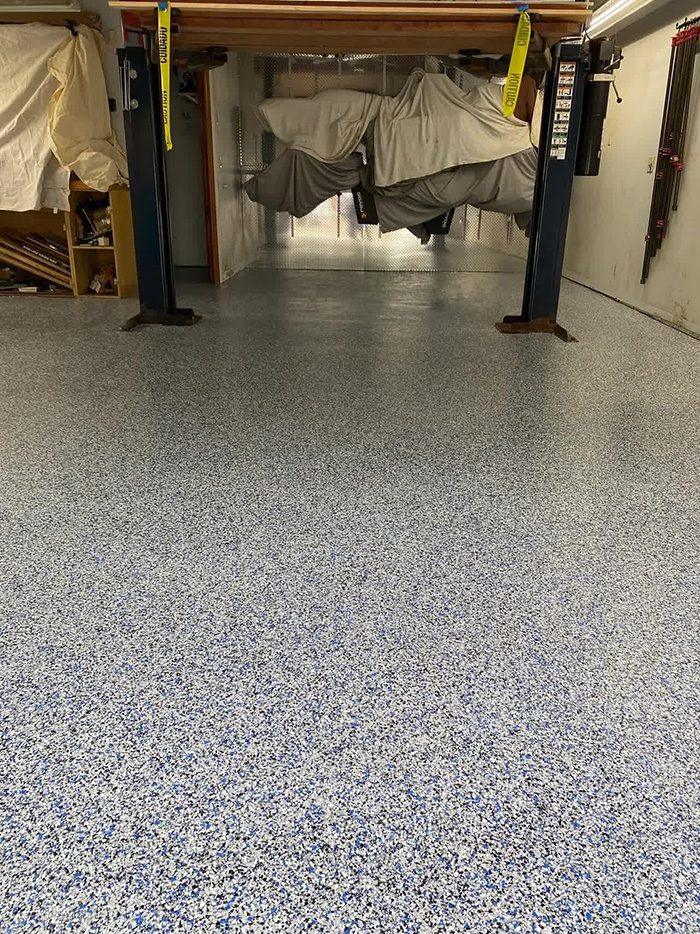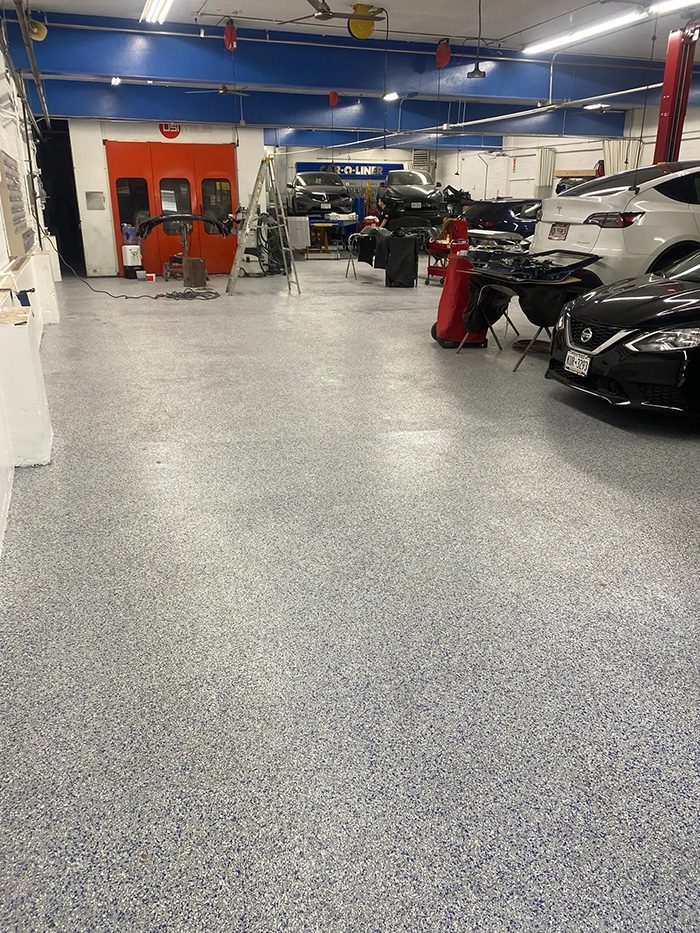 Staten Island Flooring: Why Epoxy?

Homeowners throughout the Staten Island area are finishing their garage and basement floors with epoxy. Why? Because not only is epoxy durable, safe, sanitary, and long-lasting, but it's also one of the quickest ways to give your garage a practical yet beautiful upgrade.
Epoxy finish is glossy, with unlimited colors and designs available to perfectly match your home. Choose from solid, matte colors to mixed, shimmery flecks. ATK has a wide selection of colors and designs for every customer's preference. This completely resinous material is easy to maintain a classy look, setting your garage apart from traditional, grungy concrete.
To keep your epoxy garage floor looking sleek and fresh, be sure to clean it regularly. Scratches and scuffs will naturally accumulate over time, especially if you use your cars or workshop space almost every day, but you can easily maintain the shine of your new floor. A bucket of soapy water with a gentle detergent will do the trick. Simply pour the soapy water onto the floor and gently scrub your garage with a mop or push broom. We recommend doing this quarterly or once per season to keep your floor in optimal condition.
Why Choose ATK Epoxy Floors for Your Garage

At ATK Epoxy Floors, we proudly maintain a track record of thrilled customers. Check out any of our photo galleries to get a glimpse of our flooring expertise. Our flooring professionals work efficiently to give you top-quality results you're sure to love. The secret is taking time to get to know you and your needs, especially when it comes to the way you've envisioned your upgraded garage.
If you have any questions about pricing, the application process, or how epoxy works, we will be happy to help. Contact us today to learn more about how you can enjoy this modern flooring solution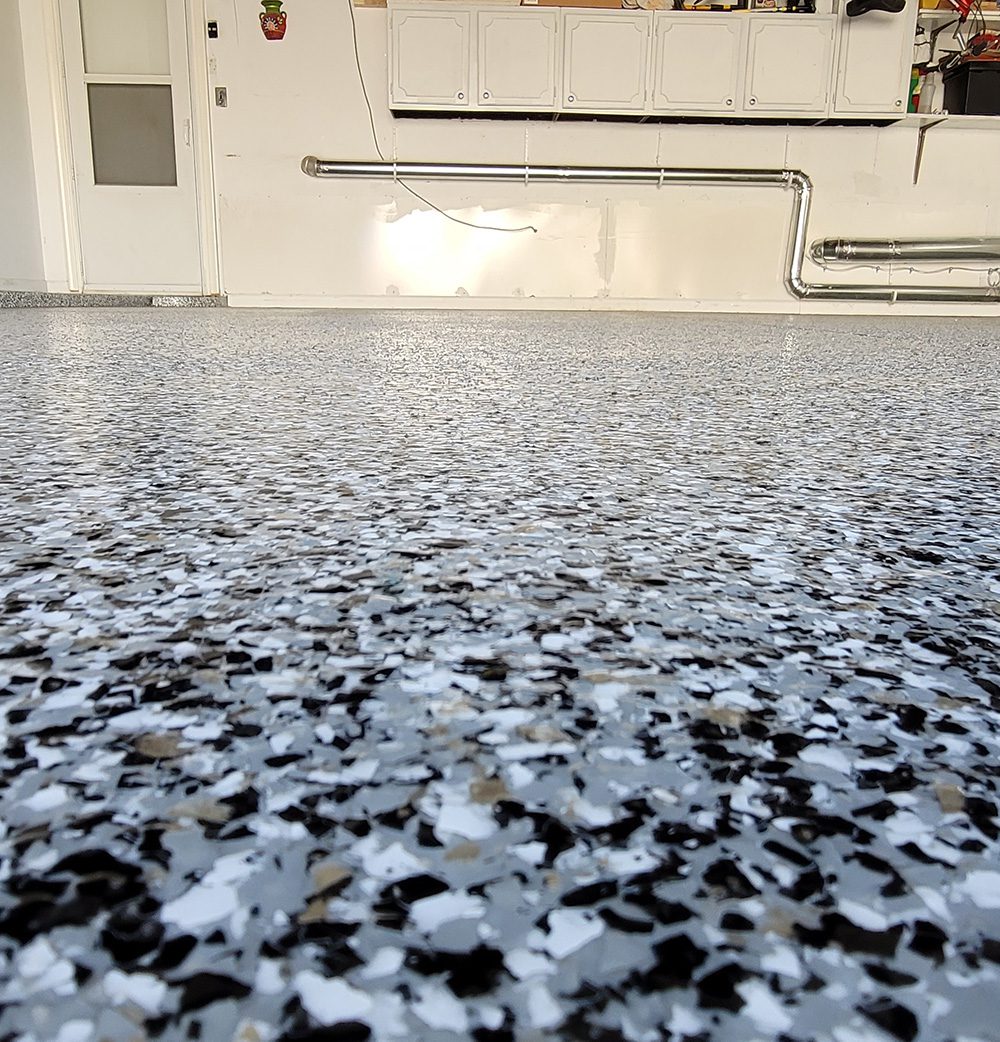 Does excellent work, particularly with details. Explained everything carefully to us before he started the job. He knew exactly what to do and how to do it. The garage floor turned out beautifully, and we are very pleased with the outcome.
I am extremely pleased with the job that ATK did on my garage floors. Andrew, the professional, who handled the job, provided me with a detailed explanation of the step-by-step process, and the material used. The work was completed on time, and the quality was outstanding. It was a truly wonderful experience to see how this young professionals take pride in their work.
Meaghan DeMartino
2023-07-06
Andrew and ATK are the best when it comes to epoxy. They are extremely knowledgeable, neat, detailed, and above all provide excellent quality. I couldn't be more happy with the results!
I am very happy and satisfied with the work completed by this company. I recently hired them to waterproof and epoxy my garage floor in the south shore of Staten Island. Andrew and his team are professional, knowledgeable and work hard to achieve the end result. He took his time explaining everything to me, going over various options and answering all questions and concerns that I had. Additionally, they were neat, clean and careful throughout the process. I would without any hesitation highly recommend to everyone.
Mildred Merlucci
2023-06-12
I recently had ATK Seamless Epoxy finish my garage floor, and I'm thrilled with the results. Andrew, , was punctual, professional, and exceptionally neat. The new epoxy finish looks beautiful, and I couldn't be happier with my garage floor. Highly recommended!
robert accardi
2023-06-01
Recently hired them to do our Epoxy/Seamless floor. Couldn't be more satisfied. Andrew and Rob were very helpful, knowledgeable & professional. They took there time and answered all questions i had. Will definitely be calling them back when needed. I highly recommend them to anyone looking for this type of work.......
We had our garage made over and the results were amazing. Our garage floor was really worn , chipped and uneven . The floors are now even , smooth and beautiful to look at. We love our garage space more than ever. They paid attention to every detail and went above and beyond to make everything look perfect. Very professional.
Have used this company a few times and the floors came out great every time plus prices are fair I would recommend this company to everyone I know
Andrew was very professional , knowledgeable and neat. The epoxy floor exceeded my expectations and will most certainly utilize his services again.
Joseph Trischitta
2022-10-29
Called Andrew and he returned my call promptly and set up a time to come see my garage for an estimate. He explained the process in detail answering all questions. On the day of application Andrew and his worker, Peter arrived on time and ready to work. Andrew is a perfectionist and takes pride in his work. Rare to see an owner/operator on the floor sanding and scraping. Clean, neat, thorough, he is involved throughout the whole process. Andrew even went out of his way to repair steps so they would have a perfect finished result. Garage floor came out beautiful. Professional experience is priceless. Would highly recommend contacting Andrew for any floor finishing needs. Very happy customer.
Free Estimates for your Epoxy Flooring